FPi 5500: Large folder inserter to handle vast mail shots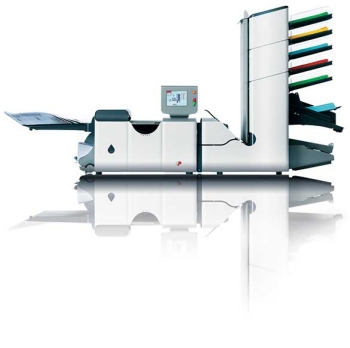 You want your outgoing mail to get where it's going fast. The growing variety of mailings, tight schedules, and the need for efficiency in the mail room demand ever more performance from folding and inserting solutions.
The modular construction of the FPi 5500 allows the addition of extra feeder stations, in pairs, for up to six stations total. Customer specific Flex configurations allow even greater job flexibility.
Perfect for multiple tasks, the FPi 5500 inserting system comes straight to the point of automated letter inserting: simplest operation, reliable letter handling and a high degree of flexibility. The FPi 5500 can handle up to 4,000 letters per hour in C6, DIN long, and C5 formats and up to 60,000 letters per month.
Security and monitoring functions assure that every envelope is correctly and completely filled. Process everything your mail room can generate up to 10 pages per envelope*, mailings with or without supplements, invoices, personalised mail. The FPi 5500 can handle it all, in a snap.
The intelligent modular construction allows the system to be configured with 2 to 6 stations as well as customer-specific solutions. Compact design and quiet operation (< 66 dB) make the FPi 5500 at home in every office environment. Regardless of which side you wish to organise your work from, the display with its full-colour touchscreen is where you need it.